---
---
Info Directories : Accommodation, Business, Food, Pubs, Shops, Tourist Attractions.
Other Sections : Cooking, Features. Services on WoW Site, The Incomplete Guides, Links Page.

---
Jamabalya Jazz
A spicy mix of prawns, chicken and sausages with rice, this makes a satisfying evening meal on the cold nights at this January time.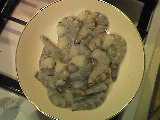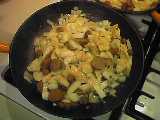 The ingredients are
2-3 tablespoons of vegetable oil for frying
1 teaspoon of paprika
2 strong pepparami, sliced. (Small snack salamis)
1-2 cooking chorizo, sliced
2 small chicken breasts. sliced
1 large onion, chopped
1 red pepper, deseeded and chopped. (Use a green one if you prefer)
2-3 celery stalks, chopped
1 teaspoon of chili in oil, or equivalent fresh chili to taste
4 cloves of garlic, chopped
8 raw tiger prawns, peeled
1 mug of rice
1-1.5 pints of chicken stock
1 pinch of thyme
2 spring onions. chopped for garnish
You will need a large frying pan or a paella pan to cook this in. The above amount will feed two hungry people.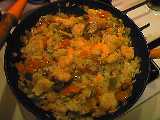 Heat the oil in the pan and add the paprika, chicken, pepparami and chorizo. Stir until browned slightly. Add the onion, pepper, celery, garlic and chili to the pan and continue cooking until the vegetables start to soften. Keep stirring.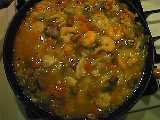 Add the rice (we tend to use basmati rice) and the prawns and cook for another couple of minutes making sure that the rice is coated with the oil and juices in the pan. Stir until the prawns start to go pink then add the stock and the thyme. Cover the pan and simmer it on a low heat until the rice is cooked and the liquid is absorbed.
Serve with a garnish of chopped spring onions.
---
Top of this Page
Top of this Web Site
---
Last updated by : Andy Jackson on 08/12/13
---
Produced by The Jackson Family Limited
email webmaster@wight.co.uk